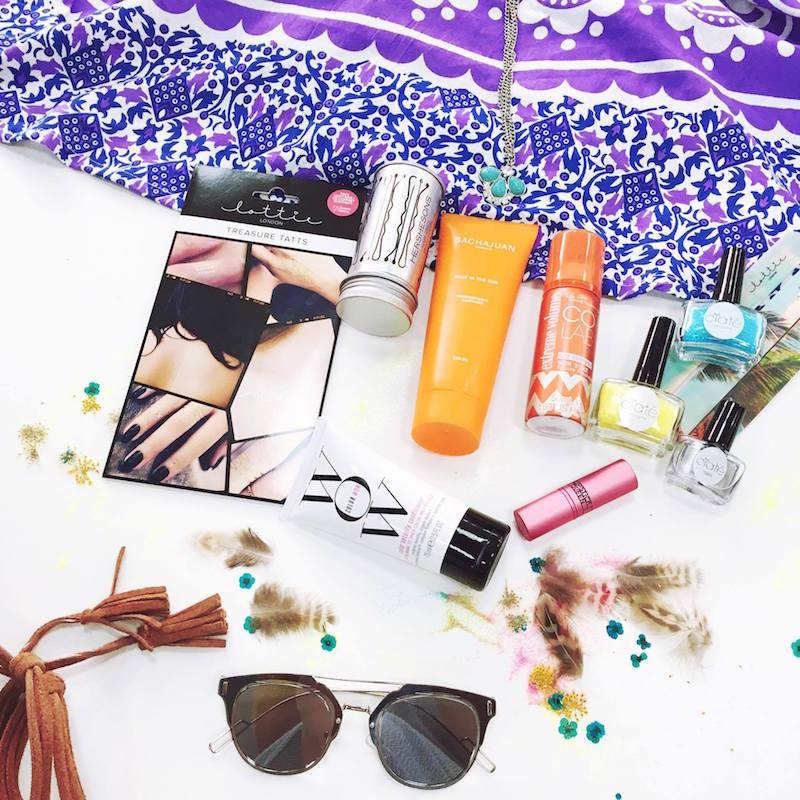 Kicking of on April 15, Hollywood's A List stars and style bloggers from around the globe will flock to the desert town of Indio, Calif. for the 2016 Coachella Valley Music and Arts Festival. With performances by the legendary Guns N' Roses and over 150 artists you can see why Coachella is one of the most stylish events of the year!
Fashionable attendees use Coachella as a chance to show off their inner hippy and create boho looks that will trend for the rest of the summer. Its not all about the fashion though, being seen with the best beauty products is essential.
We have picked our 'Coachella Beauty Essentials' for you to add to your festival bag. Find out why they have made our top picks.
Lottie London - Treasure Tatts
Adorn your self with the Lottie London Treasure Tatts. A great alternative to costume jewellery, these metalic and gold, simple to use transfers will have you Coachella ready in an instant. If your nails are clean of polish and buffed add them across your nail and finger too for instant Coachella Glam.
Ciate London - Corrupted Neon Kit (Blue)
Show off your nails at sunset with Ciate London's Corrupted Neon Kit (Blue). The easy to use nail kit consists of polish, neon glitter and a UV-triggered top coat. Cool Tip? Add a sprinkle of the neon glitter from the kit to your hair parting and seal with hairspray too!
SACHAJUAN - Hair In The Sun
Hair In The Sun has been specifically made for sun exposure. For the best results pour a coin sized dollop into your palm, and work it into your hair until the lotion has fully absorbed. With its nourishing formula, this product is your go to remedy for dry, frizzy, or brittle locks during and after the festival season!
Hershesons - Hair Grips
There is nothing worse than being at a festival and loosing all your hair grips. Thankfully with Hershesons Hair Grips there will be no more rummaging around your handbag. Acheive perfect festival hair up do with Hershesons!
Color Wow - One Minute Transformation
Refine texture and revive your style with just your hands, a flat brush and a coin-sized amount of Color Wow - One Minute Transformation Cream. Apply cream to any unruly, frizzy hair and brush through for a glossy, polished Coachella evening look finish.
Nip+Fab - Dragons Blood Fix Cleansing Pads
Coachella fan, Kylie Jenner swears by the Nip+Fab Dragons Blood Fix Cleansing Pads. Wipe away the day with these gentle cleansing pads. Rest assured that your skin will stay hydrated during the festival season with Nip+Fab.
Lipstick Queen - Frog Prince
Get heads turning with Lipstick Queen Frog Prince, an amazing lilypad green lipstick that transforms lips into a pretty rosebud pink. Don't be fooled by the deep green hue of this semi-sheer lipstick. The green reacts with the warmth of your lips turning them it to an intense, fairy tale rose while vitamin E and shea butter keeping your lips soft and hydrated.
For a chance to WIN our Coachella Beauty Essentials all you have to do is:
Sign up to our Newsletter (at the home page)
Follow our Instagram (beautysolutionstrading)
The Winner will be announced on the 24 of April. UAE Residents ONLY
Good Luck!!
---

Written by Lucy Chan
Social Media Marketing Manager at Beauty Solutions & Beautiful Brands